The Most Trusted and Creative Game Development Company in Ahmedabad
WIT Solution is the most trusted and creative game development company in Ahmedabad. The introduction of smart devices in modern times has contributed to the development of interesting games. The number of tech-savvy people playing them also has increased recently. The games we develop in our game design company in Ahmedabad are known for entertaining, engaging and addictive for the game lovers. Most of the games we have developed have fallen under the category of action, role-playing, puzzle, adventure, racing etc. Our game developers in Ahmedabad develop games that can be played across all platforms, including PCs, mobiles, laptops, tablets and any other tech device you can think of.
The popularity of a mobile game increases by the number of people playing it. All our clients have reported that the games from our mobile game development company attract a huge number of players within a short duration of time. Some of the games we have developed for our clients are world-famous. As the best game development company, we relish on the saga of our clients reaping a huge amount of profits from their business supported by our services. You are invited to contact our game design company and hire the top developers for your new gaming projects.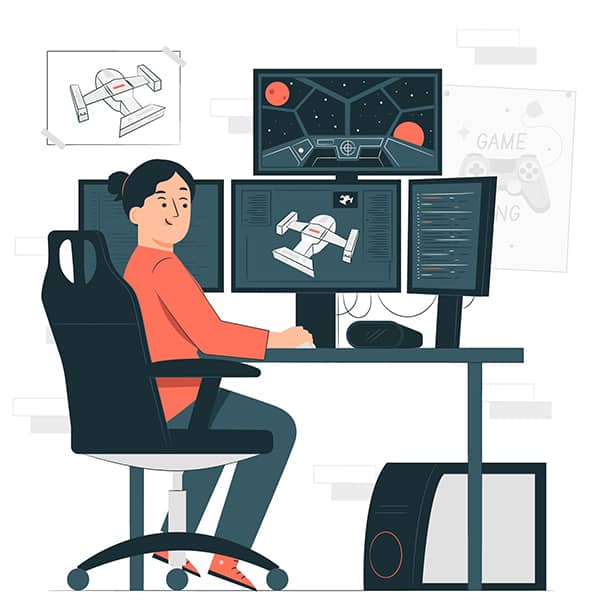 The Best Game Developers in Ahmedabad
We have employed some of the best game developers in our firm to take up the most complex game projects from diverse industries. Our developers are chosen after a thorough screening and skill assessment, and it has enabled us to find some of the cream talents from the gaming industry. Harnessing super talents coupled with the latest technologies, tools and software for developing exceptional, high-quality and unique games has placed us at the top of some the best gaming companies across the country. Quality is the trademark of all the products of our game design company in Ahmedabad. Are you looking for the best game developers that provide utmost priority to your concept? Contact us today, and we are your first choice.
3D Games Development
As the best game development company in Ahmedabad, we are fully geared up to provide 3D game support to our clients. You can find several quality games in this segment that we have developed for our clients. We have the top-class mastery over all the stages of a 3D game development, including concept design, asset production, programming and testing. We also provide the best graphics design Ahmedabad service.
Numerous Game Types
You may need a game in action, puzzle or racing segments. Tell your game requirement to our game design company in Ahmedabad. We develop games of all types with high complexities. Narrate your idea to us, and we can make you a hot seller in the marketplace.
Multiplayer Multilevel Games Development
In this world of smart devices, multiplayer games are favourites among the game lovers, and our ability in this segment makes us one of the top gaming companies. We are also specialized in developing games with multilevel, and thus we are rightly called as top game developers.